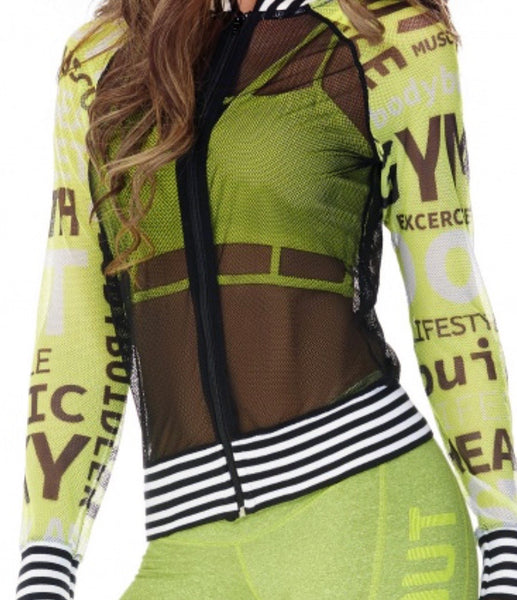 MESH WORKOUT JACKET - NEON YELLOW
Beautifully detailed Polyamide mesh jacket, neck and arms with black and white fitted sleeves, black mid front and back section. Front zipper and fitness related words across sleeves Fitness , Muscle , Lifestyle. Made with unique patterns and materials to accentuate your physique! 
So stylish it can be worn as casual but made to be used for Sport activities. 
Tip: Combine this top with a variety of our Leggings! 
Bra shown on model is sold in our Kool Bodies Online Store! See Bra section under Womens Athletic Wear.
Colour: Neon Yellow
90% Polyamide 10% Elastane
Machine washable 
Made by Babalu
ONE SIZE (Best Fits US sizes 0 – 8) 
Garment Care: Cold machine wash or lukewarm hand wash. For best results turn inside out when washing. Do not use bleach. Tumble-dry at low speed and temperatures. Do not iron. Do not use steam. It is recommended that the microfiber mesh and mesh fabrics be washed in a garment laundry bag to prevent other items (e.g. zips or bra clips) from snagging the fabric.