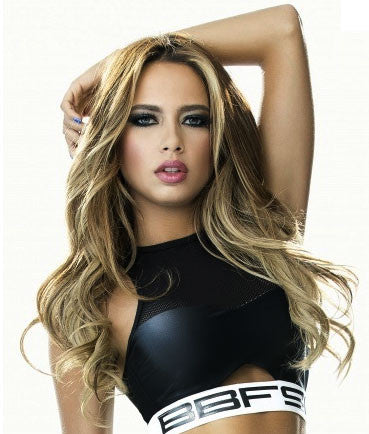 METALLIC TOP SPORTS BRA - BLACK
This bold Polyamide tops' shiny material gives the appearance of a strapless sports bra over a layer like design that creates a halter style front, high neck coverage and includes a T-strap zipper on the back. BBF90 is printed along band
 Tip: Combine this top with a variety of our Leggings!
 Colour: Black
Polyamide Material
Machine washable
 ONE SIZE (Best Fits US sizes S– L)
Garment Care: Cold machine wash or lukewarm hand wash. For best results turn inside out when washing. Do not use bleach. Tumble-dry at low speed and temperatures. Do not iron. Do not use steam. It is recommended that the microfiber mesh and mesh fabrics be washed in a garment laundry bag to prevent other items (eg. zips or bra clips) from snagging the fabric.